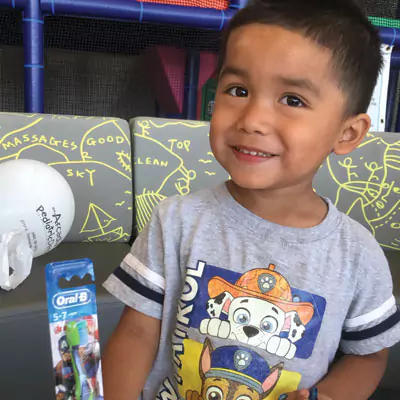 NITROUS OXIDE (LAUGHING GAS)
Children's Dental Nitrous Oxide in El Paso, TX
---
What is nitrous oxide?
Nitrous oxide, commonly called "laughing gas", is an inhaled gas with a faint, sweet smell that is used to reduce pain and anxiety for a young or fearful child. It is also helpful for a child requiring a long dental procedure.
Laughing gas is actually a mixture of nitrous oxide and oxygen. It is delivered to the body by the use of a nasal mask worn over your child's nose as they breathe. The gas is quickly absorbed and excreted from the lungs allowing for quick onset and recovery.
Nitrous oxide administration is considered a conscious sedation method because your child will be awake and responsive during the procedure. However, they will feel relaxed due to the effects of the laughing gas. Our Children's dentists are highly experienced in giving nitrous oxide to help ease your child's anxiety during their dental visit.
How does nitrous oxide work?
A nasal mask will be gently placed over your child's nose and they will be asked to inhale and exhale through it. The nitrous oxide gas is then gradually turned on through the nasal mask as your child breathes. Your child will begin to feel the effects of the gas within a matter of minutes.
Following the procedure your child will be given pure oxygen (rather than the previous mixture of nitrous oxide and oxygen) and the effects of the nitrous oxide will wear off almost immediately. Your child will be able to return to school after their appointment as there are no lingering side effects.
Nitrous oxide can help make your child feel comfortable!
At El Paso Dentistry 4 Kids we are dedicated to helping your child maintain a healthy smile. To schedule an appointment for your child with one of our specialized kids dentists or to learn more about sedation dentistry, please click HERE or give us a call.