El Paso Dentistry 4 Kids - Dyer
Children's Dentists on Dyer Road
---
Located just South of Highway 375/Woodrow Bean Transmountain Dr. on Dyer Rd., our office is found in the same plaza as Food King & Big 5 Sporting Goods behind Mister Car Wash.
Monday-Thursday: 8am - 6pm
Friday: 7am - 2pm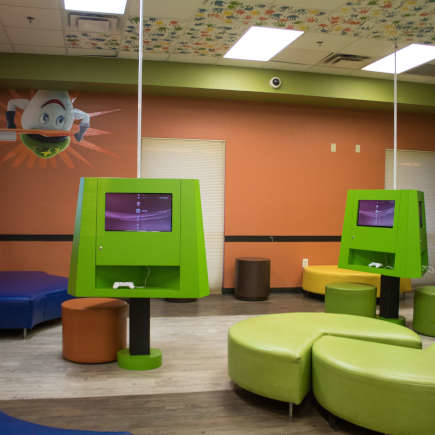 ---
Welcome to El Paso Dentistry 4 Kids on Dyer Road!
Our crew is committed to making your child's dental experience as comfortable and fun as possible. We guarantee to help our patients with the tools they need to build great oral habits! EPD4K provides financial options to ensure your child gets the dental care necessary for them.
Children's Dental Services
Our award-winning office in El Paso delivers top-quality dental care regardless of family income in a fun and upbeat environment. See why El Paso Dentistry 4 Kids is right for your child with these services:
Finding Us
From Northeast El Paso

- Via Dyer


Located between Annette Dr. & Yvette Ave. our Dyer Office is just South of TX-375 Loop in the Plaza Nordeste shopping center, alongside Big 5 Sporting Goods, Family Dollar, & Food King. We can be found just behind behind Valvoline & Mister Car Wash at the South end of the complex.
From Downtown

- Via US-54

Drive along US-54 East from Downtown (headed North towards Fort Bliss), for about 5 miles until you reach EXIT 26 toward Dyer St./Hercules Ave. Take Dyer St. for about 10 minutes, until you reach the traffic light for Yvette Ave, just past Manila Dr. Turn left on Yvette Ave., then turn right just past the Mister Car Wash entrance. You'll immediately see our Dyer office at the corner of the shopping plaza on your left.
From Fort Bliss

- Via Railroad

Take Railroad Dr. North from the Fort Bliss area, after 3 miles keep left to continue onto McCombs St. Drive about a mile past the Dairy Queen and take a left on Saluki Dr. Cross Dyer St. to enter the shopping plaza where our office is located on the left (southern) end of the building.
Schedule an appointment with our family dentists today!
---